Full Arch Implant rebuild your smile
If you're missing one or more teeth and are interested in dental implants in Franconia, or if you'd be better off with full-arch implants. So the team at Alexandria Center of Dentistry will give you some more information about the full arch implant protocol.
What Are Full Arch Dental Implants?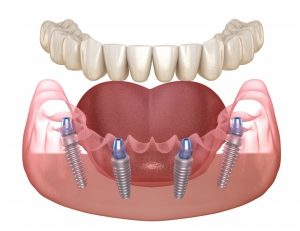 Dental implants are tiny titanium screws that are surgically implanted into a patient's jaw. Once placed, dental implants are meant to fuse with the bone tissues so that they essentially end up replacing the roots that have been lost as a result of tooth loss. Dental implants not only act as an anchor for dental prosthetics, including dental crowns, dental bridges, and dentures, but they also stimulate the tissues of the jaw to prevent degeneration.
When we refer to full arch dental implants, we are talking about implants that support an entire arch of prosthetic teeth (typically a full denture). To support a full set of dentures our Franconia patients do not require a dental implant for each tooth that is being replaced. Instead, a full set of implant-supported dentures is generally held in place by just four dental implants.
The Full-Arch Implant Procedure
The procedure is very similar to the single-tooth implant procedure. However, all of your remaining natural teeth must be extracted before you can get full-arch implants. Your mouth will be cleaned and numbed, and a series of 4-6 implants will be placed in each arch of your mouth.
Then, our dentist will attach a set of temporary dentures to your implants. You will need to take special precautions when chewing with these teeth to avoid damaging your implants. Initial healing will take a few weeks, but it will take 3-6 months for your implants to permanently bond with your jaw bone.
During the recovery process, you'll come and see our dentist at Alexandria Center of Dentistry for check-ups. He will also begin creating your permanent set of removable or fixed implant dentures. 
Once your mouth has healed, you'll come to our office for your last appointment, and your permanent dentures will be attached to your implants, completing the procedure.
Full Arch Dental Implants vs. Traditional Dentures
The biggest difference between full arch dental implants and traditional dentures is that full arch dental implants are not removable. Dental implants secure dentures so that they fit comfortably and securely. Benefits of implant-supported dentures include:
No fear of dentures slipping or falling out of place

Ease of care (they can be brushed like the natural teeth)

Superior comfort

Long-lasting strength and durability
Contact Alexandria Center of Dentistry
If you are living in Franconia, Alexandria, or nearby and interested in finding out if you are an ideal candidate for full arch dental implants, we invite you to schedule an appointment with the team at Alexandria Center of Dentistry.To contact our practice call (703)719-9305.