Braces in Alexandria
If you want to have your smile straightened, you should come to see us at our Alexandria Center of Dentistry. At our dental practice, our dentist can provide you with
braces in Alexandria
, including Invisalign or traditional braces.
Our dentist, Dr. Mohamed Attia, can talk to you about the benefits of Invisalign and traditional braces. Both of these braces options have their own benefits, and which treatment works best for you will depend on your individual bite situation and your personal desires. Many of our patients enjoy treatment with Invisalign because it uses clear plastic aligners for treatment. This means that you will never need to be seen wearing metal wires and brackets on your teeth. In fact, the clear plastic aligners are virtually invisible while they are being worn, causing many of our patients to refer to treatment with Invisalign as treatment with invisible braces in Alexandria. Additionally, when a patient is treated with Invisalign, they are able to eat anything they want during the entire treatment time. This is because the clear plastic aligners are removed during meals, and so that you can thoroughly brush and floss your teeth. If you come to our dental practice wanting to be treated with Invisalign, our dentist will first want to determine whether or not it is a good treatment option for your particular bite situation. Since Invisalign uses clear plastic aligners, it cannot fix all different types of bite problems. There are cases when traditional metal braces can be used, but Invisalign will not be right for the situation. However, Invisalign is able to expertly fix most common bite problems. Treatment with Invisalign and metal braces takes about the same amount of time. However, our patients also enjoy the fact that the clear plastic aligners are extremely comfortable in the mouth since they do not have any metal parts.
For an appointment to come in to see our dentist regarding getting
braces in Alexandria
, contact us today.
By Alexandria Center of Dentistry
October 2, 2017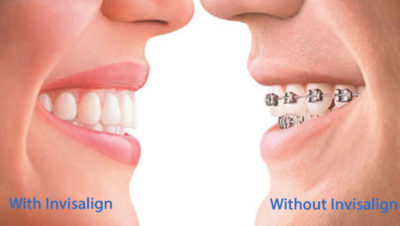 Blog Posts
Follow Us